Elizabeth Hutchinson Volunteering with our mini horse Little Petey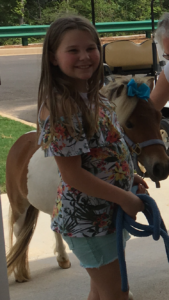 We enjoy our animals so much at Peachland Farm that we like to share our happiness.  It's great to see people smile and almost instantly relax when they pet our mini horse Petey.  This photo was taken while Elizabeth and Jennifer went to volunteer at a retirement home.  It was great experience for Elizabeth who loved telling everyone about Petey and helping seniors in the community. Mini horses are special, here are a few facts.
Mini horses are pregnant for 11 months
Foals nurse for 4 to 5 months and weigh 12-25 pounds when born
Mini horses are successfully used as "Therapy Horses".  According to horse-therapy.org, mini horses visit more than 45,000 people every year bringing joy to their life
Mini horses can easily pull a buggy and move their own weight
Mini horses eat the same food as big horses and eat around 2-5 pounds of hay per day
Mini horses need vaccinations, dental care, regular farrier visits and not to forget lots of love
Mini horses can live paste the age of 30, a mini horse named Angel reportedly lived past the age of 50
Little Petey is 4 years old, so he will be part of our family for a long time.